Aeneas and Callisto
Two Ceiling Paintings by Jacob de Wit Mixed Up
Abstract
The Rijksmuseum has in its collection an oil sketch by Jacob de Wit (1695-1754) of a design for a ceiling painting. This ceiling painting – The Apotheosis of Aeneas – was commissioned by Pieter Pels (1668-1739) for his house at number 479 Herengracht, Amsterdam. The present article identifies the room for which the work was made. The ceiling painting proves to have been part of a larger painted ensemble by Jacob de Wit and the landscape painter Isaac de Moucheron (1667-1744). On the basis of De Wit's sketches, records in the archives and research on site, a picture of the way this painted room looked in Pels's day is built up. The later fortunes of the room are also explored. At the end of the nineteenth century the ceiling painting was replaced by another one, also by De Wit. As a result of this very curious switch, the present ceiling painting is no longer an original whole, but a composite hybrid. All the other interior paintings vanished from the room long ago. Three of them, a chimney-piece and two overdoors by De Wit, have been traced to Russia. Three previously unknown paintings have now been added to the artist's oeuvre.
Downloads
Download data is not yet available.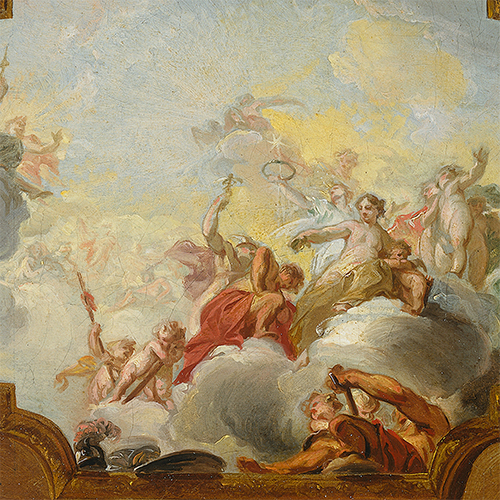 Downloads
How to Cite
de Fouw, Josephina, and Ige Verslype. 2019. "Aeneas and Callisto: Two Ceiling Paintings by Jacob De Wit Mixed Up". The Rijksmuseum Bulletin 67 (3):196-215. https://doi.org/10.52476/trb.9730.
License
This work is licensed under a Creative Commons Attribution 4.0 International License.