A New Attribution to Jan van Scorel
The Portrait of Joost Aemsz van der Burch and the Artist's Portrayals of 'Great Lords of the Netherlands'
Abstract
This article posits a new attribution to Jan van Scorel of the imposing, frontal portrait of Joost Aemsz van der Burch (c. 1490-1570), Antwerp, The Phoebus Foundation, especially as compared with Scorel's portrayal of Reinoud III van Brederode (1492-1556), Lord of Vianen, Amsterdam, Rijksmuseum. Other portraits by Jan van Scorel that are related in terms of patronage are also discussed, including Portrait of Janus Secundus (1511-1536), The Hague, Haags Historisch Museum; Portrait of a Man in a private collection in England; Portrait of Jean II de Carondelet (1469-1545), Brussels, Musées royaux des Beaux-Arts de Belgique; Portrait of Joris van Egmond (1504-1559), Amsterdam, Rijksmuseum; and Portrait of a Man, Antwerp, The Phoebus Foundation. These provide insights into Scorel's development of portraiture on a
more monumental scale, his distinction as a portraitist from his contemporary, Jan Cornelisz Vermeyen, and his clientele at courts in Breda, Mechelen and Brussels.
Downloads
Download data is not yet available.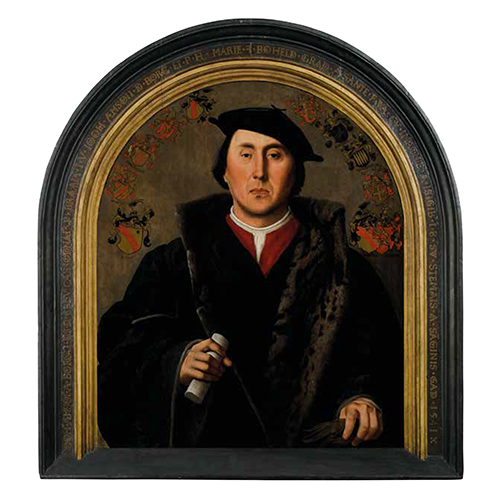 Downloads
How to Cite
Faries, Molly, and Matthias Ubl. 2017. "A New Attribution to Jan Van Scorel: The Portrait of Joost Aemsz Van Der Burch and the Artist's Portrayals of 'Great Lords of the Netherlands'". The Rijksmuseum Bulletin 65 (4):354-71. https://doi.org/10.52476/trb.9768.
License
This work is licensed under a Creative Commons Attribution 4.0 International License.